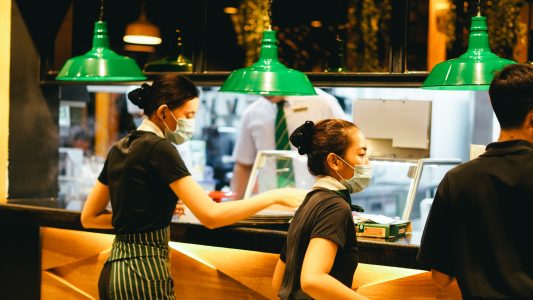 As you'll be well aware, one of the biggest issues for the hospitality sector right now is staff shortages. A perfect storm of impacts from both COVID and Brexit has made great hospitality staff not only harder to find but more likely to consider leaving where they are today.
According to our partners S4labour, the cost of staff turnover this year for individual businesses could be anywhere from £30,000 to £122,500. Research by CGA also states that 56% of people aged 18 to 24 plan to leave their jobs in the next year.
The problem is particularly acute when it comes to hiring chefs. Such demand for their skills means we're seeing respected chefs move to competitors literally across the street for an extra £1 per hour.
Staff retention has always been a major focus for hospitality businesses, but it's even more important today.
To avoid more rising costs, a renewed effort towards staff retention is required. Here are some of our best tips for hospitality businesses that want to ensure their staff feel happy, valued and supported and are therefore more likely to stick around.
Upskill Your Team
This post-COVID period is being dubbed the 'Great Resignation'. After extended amounts of time at home, people are actively reassessing what work means to them and are changing jobs to re-prioritise and have a better work-life balance. 
Taking time to understand why your staff are looking to change where they work can be a good first step in getting them to stay, saving you on the cost of rehiring.
For staff that are looking for future promotions or new roles, training and development opportunities are of particular appeal. Our partners at Flow Learning offer an extensive learning management system, allowing your staff to train in areas such as compliance, management, service and more, in a way that feels engaging and accessible.
By showing a desire to upskill your team, staff will be more inclined to stay with you during their development and could even go on to fill more technical gaps in your business. By having more staff that can perform more tasks, you can then offer your most in-demand people, such as chefs, a more flexible work-life balance.
Even offering learning opportunities indirectly related to your output, such as sustainability, could appeal to people that are placing increased importance on working for ethical businesses. This ties into the next point.
Staff Experiences & Values
Now more than ever, it's important that your staff feel like they're part of something bigger. According to research by CGA, staff values are playing an important role for young staff when deciding whether to stay where they are or work for someone else. Particular emphasis is being placed on diversity, minority rights, the environment and mental health.
Creating unique staff experiences can help improve morale across your whole team, appealing to individuals while also growing a collective atmosphere that might have been subdued through various lockdowns. These staff experiences can also tie into your understanding of the changing priorities of your workforce.
Ideas like helping out in the community, time off for your birthday or training on sustainability can show that you are conscious of your staff's values, increasing overall job satisfaction and pride in where they work.
Comprehensive Staff Management Systems
As you know, when you have a small army of staff on various contracts and rotas, it can be hard to keep track of what's going on with everyone at once, which can make proposals like staff development and experiences harder to implement.
Now more than ever, hospitality businesses need a staff management system that is both clear and easily accessible, so you can see everything that's happening with your team at a glance.
Our partner Croner offers an all-in-one HR system, allowing you to manage things like rotas, staff birthdays, health & safety law, and more all in one convenient place. They also offer users a helpline which can be a lifesaver if you don't have an HR team in-house.
See the Croner and En Croute Catering case study for more information on how their system can make your life easier, helping you to spend more time and energy on improving your staff's morale.
Pay on Time
This is a simple but hugely important point. It really does pay to make sure your staff get their wages on time.
This year, money is going to be even more of a driving factor when it comes to staff staying or going. In hospitality, where there are more vacancies than staff to fill them and the cost of living is squeezing employees, money is a simple determining factor.
Paying your staff on time when expected is a clear and easy way to show that you have their interests at heart. It's a simple but crucial part of staff happiness, and shows respect and appreciation for your team. 
Attract New Staff
Despite your efforts, there will probably come a time when you need to hire new staff. However, the points above will not only make this less of an occurrence, but it will make rehiring easier when required.
We all know that word of mouth goes a long way in the hospitality sector. If you continue to go that little bit further for your staff, your reputation as an employer will hugely benefit, allowing you to be more competitive in the jobs market. 
We at LSG have seen the immense amount of work hospitality businesses have put into caring for their staff during COVID. While it may be a daunting prospect to go the extra mile again, with the help of our sourcing power in all aspects of your business, you can recruit and retain a productive team during this turbulent time for the industry.
To gain access to articles like this and more, join LSG today
Sign up now